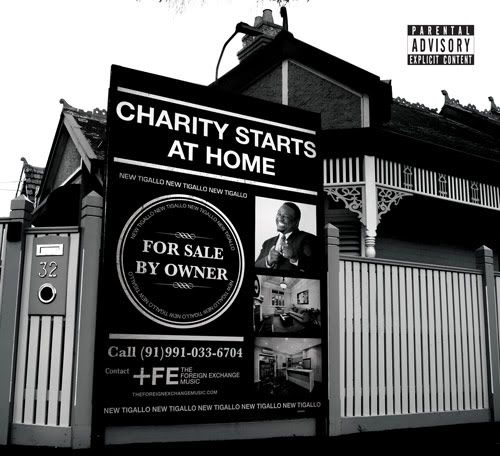 Determining what makes a rapper great can be difficult. It's always a moving target, and very few people have bothered to show their work. That said, I'm going to pull my soapbox out of the basement and state, unequivocally, that Phonte is one of the greats. His style is accessible but not juvenile (the rapper or meaning child-like). He's extremely versatile, with an uncanny natural rhythm regardless of the beat provided. His catalog has the depth of an extreme workaholic coupled with a level of quality that shows virtually no wear and tear on his craft. His vocabulary exposes an extremely prevalent intelligence. Most importantly, however: he raps about the things I care about at an extremely proficient level and in an engaging way.
At the end of the day, this is the gauge that all of us use to determine who we think is great: is this artist engaging me on the levels and espousing the values I care about?
His long-awaited debut album,
Charity Starts At Home
, is ridiculously earnest: the things he sings about with Foreign Exchange are the things he raps about, and vice versa. While there is a LOT of Phonte out there, you are always getting Phonte as he IS. And if you go back over his catalog and note how some stances may have been different from phase to phase, these are not signs of hypocrisy…they are signs of growth. It is as if Phonte is incapable of a musical lie. If only every artist were as honest while not turning it into a corny refrain.
We are in no danger of that with this album. I'll answer the most asked question right out the gate: this is essentially a rap record. While there is a song on which Phonte ONLY sings ("To Be Yours") and two others on which he sings and does his own guest rapping ("Ball and Chain" and "Gonna Be A Beautiful Night"), that's about it out of a twelve-song set. This is not to say that if you only know him from fronting The Foreign Exchange you won't dig this album (hey, those people exist. I've met them). I think it will depend on what your relationship with rap is in general. As someone who has listened to rap since it came out and thinks a lot of the stuff that makes it to the radio is garbage, Phonte hits me right where I am: his lyrics show a real grappling with "grown folks business". While the beats largely accomplish everything I need all good rap beats to do - move, bounce, growl, snap, make my car shake on the way to work – it is Phonte's verbal wrestling with relationships, trying people, business matters and his own emotions that separate him from virtually the entire field of rappers currently working. It is thought-provoking, sincere and probably the most honest rap record in recent memory.
And let me offer this disclaimer for people who follow me on the regular:
My complete and utter love for The Foreign Exchange would not have kept me from writing a bad review of this record if it were weak. If anything it made me take a harder look because my expectations were mad high. Phonte nailed those expectations for me.
Standout tracks are "The Good Fight" (a great song to drive to work to and the coffee ain't gettin' it); "Sendin' My Love", "Not Here Anymore" (9th Wonder's sickest offering here as producer); "Gonna Be a Beautiful Night"; "We Go Off" (my FAVORITE song on this album, featuring Pharoahe Monch); and "Who Loves You More" (my second favorite song on this album). I want to point out that I just picked six songs – half the album – as STANDOUT tracks, meaning tracks that, as far as I'm concerned, anyone would like who has any musical palette whatsoever. Consider that more than a ringing endorsement…consider it a mandatory purchase.